Ad Blocker Detected
Our website is made possible by displaying online advertisements to our visitors. Please consider supporting us by disabling your ad blocker.
Back on March 4, 2016, a mysterious saucer-shaped object draped in tarpaulin headed down Arizona State Route 77 near Holbrook.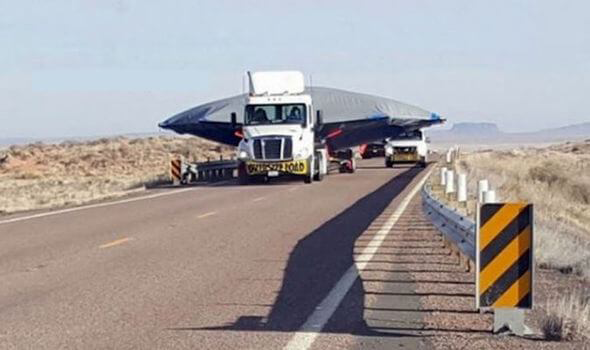 Charlene Yazzie passed the truck carrying this object and wondered what the covered flying saucer-shaped object could be so she snapped a picture of it. She also noted that the truck was being escorted by black Department of Publick Safety (DPS). She posted the picture on Facebook where it attracted a lot of attention and members of the UFO community speculated freely about it.
Charlene later talked to KPHO, an Arizona station, and stated that she was driving north and the truck was headed south to the freeway and it was escorted by three DPS vehicles. KPHO approached the DPS for an explanation of the mysterious tarp-draped object and the Duty Officer responded: "Unfortunately we do not know what the is…but it looks interesting."
Conspiracy theorist believes that the object was top secret and even the DPS personnel who escorted it had also been kept in the dark. There is no doubt that the government agencies have recovered crashed UFOs from multiple sites in the past and government scientist and engineers are reverse-engineering the propulsion technologies of the UFOs in multiple top-secret bases.