Ad Blocker Detected
Our website is made possible by displaying online advertisements to our visitors. Please consider supporting us by disabling your ad blocker.
December 25, 2020: Bomb goes off on Christmas morning in downtown Nashville Tennessee.
Witness, Betsy Williams, owner of the Melting Pot building across the street, says the RV was parked there since Thursday Night.
Williams also said she heard the sound of loud, rapid-fire gunshots at about 4:30 a.m. and after more gunshots, she called 911.
She heard the loud recorded audio coming from the RV saying to "Evacuate now," then the voice started a 15-minute countdown.
Why Would Someone Put A Recorded Message For People To Evacuate If They Were Really Terrorists?
This whole ordeal stinks the fish to me.
Because everyone knows that terrorists won't put a recorded message for you to get the hell out of the area before the bomb goes off, they want people to die.
So, in my opinion, this was not from any terrorist and was very intentional and planned by someone.
Who that someone is we don't know yet.
From the recorded message blasting from the RV, that you can hear from the video above, the bomb seemed to be not intended to kill or take lives, although according to Metro Nashville Police Department spokesman Don Aaron stated that three people were taken to area hospitals for treatment and none were in critical condition.
But it sure seems as though someone wanted to destroy these buildings downtown for some particular reason.
The Metro Nashville Police Department released a photo of the RV (below) taken from a surveillance camera located at the intersection of Commerce St. and 2nd Ave. North, which is about half a block from where the explosion went off.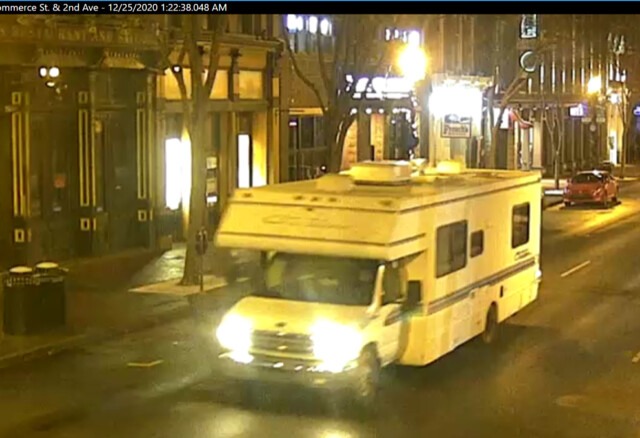 According to the Police it arrived at 1:22 a. m. CT, about five hours before the explosion.
Enforcement departments urged people who have seen the vehicle or have information about it to contact the Metro Nashville Police Department Crime Stoppers by calling 615-742-7463 or provide information to FBI Memphis via their website.
Heart Of Downtown Goes Boom
These building include bars, restaurants and other retails establishments and is known as the heart of downtown Nashville's tourist scene.
Andrew McCabe, a former deputy FBI director, told CNN that an explosion of this size would be investigates as a possible acto fo terrorism, however as I said before… terrorist wouln'd blast a recoreded message to save lives. As their mission is to take lives.
A Nashville council member, Freddie O'Connell, for the affected area by the explosion told The New York Time that a lot of people had lost their homes.